"We do not inherit the earth from our ancestors, we borrow it from our children."
~Native American Proverb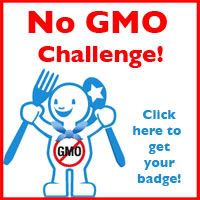 I am taking the Earth Day "
Just Say No to GMO's
" challenge this month. More truly, I am taking this challenge for the rest of my life, and have already been living it for quite some time. However, it is nearly impossible to avoid if you eat out, or ever need a convenience food. So, for the next month, I will even be ruling out those exceptions.
Think that GMO's are no big deal, since the FDA approves of them, right?
Cheeseslave
and
Food Renegade
have already posted great info today on GMO's, so rather than repeat them, I suppose I will share this old quote from
Accidental Hedonist
instead:
"Once upon a time, in order for the FDA to determine if Monsanto's growth hormones were safe or not, Monsanto was required to submit a scientific report on that topic. Margaret Miller, one of Monsanto's researchers put the report together. Shortly before the report submission, Miller left Monsanto and was hired by the FDA. Her first job for the FDA was to determine whether or not to approve the report she wrote for Monsanto. Assisting Miller was another former Monsanto researcher, Susan Sechen.

The result? Monsanto approved its own report.

Doesn't that fill you with [feelings of] safety and joy?"

Here is what Monsanto claims on their website about their own ethical standards:

"Challenges that arise in the course of our business can be resolved consistent with all applicable laws and regulations, and with our high ethical standards, and still allow us to meet our business objectives if issues are identified early, addressed cooperatively, and solved thoughtfully."
- Monsanto's Code of Business Conduct
Interesting that the only specific foundation they have for ethics in business is that they comply with laws and regulations. This is interesting since their own lobbying dollars and other forms of bribery are what influence may of those laws and regulations - and then they use the same staff in a revolving door with the FDA. How is this objective!?
Here
is an interesting history I recently found on the company, and
here
is what wikipedia offers.
I cannot find it at the moment, but Dr. Mercola also had an article a while back about a new "mystery" disease that caused blue, white, and some other color long plastic threads that would come out of (and tear through) your body. The only good explanation for this condition is GMO's as they disrupt and modify cellular function (that is, after all, the objective of their use in the food supply).
GMO's are awful for the environment and dangerous for you. Take this challenge with me! The best way to know what you are eating is to make it from scratch, however, you can still avoid GMO's by purchasing organic prepared foods. Start reading labels. Know what you are eating.....after all, your body can only be built by what you put into it.
*********************************************************
This post is part of the
Real Food Wednesday
blog carnival hosted by
Cheeseslave
. For other stories, anecdotes, recipes, and posts relating to Real Food, go check it out!
*********************************************************